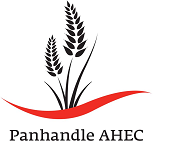 Staff

Stephanie Loya, CHES, CHWI
Center Director
Office Phone: 806-651-3482
Fax Phone: 806-651-3489

Stefanie West, MBA, CHW
Community Based Education Coordinator
Office Phone: 806-651-3483
Fax Phone: 806-651-3489

Sonya Voyles
Health Careers Promotion Coordinator
Office Phone: 806-651-3481
Fax Phone: 806-651-3489


Panhandle AHEC
WTAMU
Amarillo Center
720 S Tyler, Suite 370
Amarillo, TX 79101
Panhandle Area Health Education Center (AHEC) located in Amarillo, TX is one of six regional centers that supports the West Texas area. Panhandle AHEC serves the following counties: Armstrong, Carson, Collingsworth, Dallam, Deaf Smith, Donley, Gray, Hansford, Hartley, Hemphill, Hutchinson, Lipscomb, Moore, Ochiltree, Oldham, Potter, Randall, Roberts, Sherman, and Wheeler.

Our Mission

Panhandle Area Health Education Center's (AHEC) mission is to prepare a diverse, culturally competent workforce that will deliver high quality care to residents in the top 20 counties of the Texas Panhandle.
Goals

To accomplish its mission, Panhandle AHEC focuses on the following strategies:

Promote and educate high school students on health careers through a variety of educational materials and training equipment.
Support health professions students and programs with supplemental education and training equipment to enhance student's knowledge and experience in providing care to rural and underserved communities.
Provide accredited and affordable continuing education opportunities for health care professionals.
Work with community health providers and local organizations to address community healthcare workforce needs affecting recruitment and retention.
Upcoming Events and Activities
West Texas Panhandle Chapter ENA Trauma Nursing Core Courses (TNCC) 2022
West Texas Panhandle Chapter ENA Emergency Nursing Pediatric Courses (ENPC) 2022
Please click here to see Panhandle AHECs upcoming events and activities.
March Events
Program begining 3/21 Mental Health Technician certification program.
3/29 and 3/31 Area Agency on Aging Destination Medicare.
April Events
4/7 M*A*S*H: Mastering Aging by Staying at Home.
4/13 Burnou, Recovery, and Resiliency Conference
May Events